Engram


Engram is a life-long acompanying vitro device
for storing, and sharing human's neural data,
including sensory feeling & subtle thoughts



Navigation ︎︎︎

1.Overview narrative
2.Storyboard
3.A video shows common using experience
4.Presentation slides
5.A video shows human-object intimacy
6.A privacy policy from 2050
7.Producer list
Overview narrative
你们好,我是来自2050年的设计师。

1.人类社会在2050年面临前所未有的亲密关系危机。在未来的三十年内,我们经历了越来越频繁的突发事件,比如自然灾害,战争,瘟疫大流行,大规模躲避灾难性质的移民。人们会面对更多的时间、空间上的隔离。

2.心理疾病越来越常见,智人种群整体的表达能力和社交欲望出现严重问题。人与人之间的"心理距离"变大。

3.我们依赖互联网的程度非常高。如果互联网崩溃,生活在现代社会的人会瞬间丧失绝大部分亲密关系,甚至与一部分亲朋彻底失去联系。但是随着赛博攻击、互联网隐私泄漏情况的越来越频繁,人们在近几十年间逐渐丧失了对互联网的信任,2050年时达到了顶峰。亲密关系依赖的平台失去了信用,亲密关系的建立和维持面临巨大的冲击。


21世纪初人们就已经意识到了这个问题并开始向人工智能求助。在几十年间,我们设计了可以与人类聊天交互的各式各样的机器人。但这真的是一个有意义的研究方向吗?机器人能够模仿人类亲密关系的表现并提供相应服务,但是它们真的懂得人类的内心需求、情感和自我吗?
机器人与人沟通被质疑的最主要因素是机器人没有内心世界。相似的是,两个拥有自我的真正人类沟通时也会出现类似的问题。当两个内心世界的交互出现表达和理解的不顺畅,亲密关系的发展就会收到挑战。
我们的每一个行为和思考都是经过一系列的脑部运算才能完成的。当一个人的表达并不能完全反应他的逻辑思考过程时,尝试以逻辑去分析他行为的同伴就会感到困惑。语言和其他我们现有的表达方式的局限性是到这这个结果的原因之一。尝试打破这种局限性是这个设计项目的目的。我决定找到一种有媒介参与的、不受肉体表达器官限制的表达方式。Engram是5D bio-print的产品,也是脑部意识活动和感官体验的总和,也是我希望我所设计的表达方式所能传达的重点。
Hello, I am a designer from 2050.
1.Human society is facing an unprecedented crisis of intimacy in 2050. In the next thirty years, we will experience frequent emergencies, such as natural disasters, wars, pandemics, and large-scale immigration. People will face more isolation timely and distantly.
2.Mental diseases are becoming more common, and the overall expression ability and social desires of the Homo sapiens have serious problems. The "psychological distance" between people increases.
We are very dependent on the Internet. If the Internet crashes, people living in modern society will instantly lose most of their intimacy, and even completely lose contact with some of their relatives and friends.
3.However, as cyber-attacks and Internet privacy leaks have become more frequent, people are losing their trust in the Internet in recent decades, reaching a peak in 2050. The platform on which intimacy relies has lost its credibility. The establishment and maintenance of intimacy is facing a huge impact.
At the beginning of the 21st century, people were aware of this problem. They began to turn to artificial intelligence for help. For decades, we have designed all kinds of robots to chat and interact with humans. But is this really a meaningful research direction? Robots can imitate the performance of human intimacy and provide corresponding services, but do they really understand human inner needs, emotions and self?
The main factor in questioning the communication between robots and humans is that robots have no inner world. Similarly, similar problems arise when two real humans with self-ego communicate. When the interaction of the two inner worlds is not smooth in expression and understanding, intimacy will be challenged.
Each of our actions and thoughts is completed through a series of brain calculations. When a person's expression does not fully reflect his logical thinking process, his companions who try to logically analyze his behavior will be confused. The limitations of language and other existing expressions are among the reasons for this result. Trying to break this limitation is the purpose of this design project. I decided to find a way of expression that involves the media and is not restricted by the physical expression organs. 5D printed, Engram is the sum of brain consciousness activity and sensory experience. It is also the critical point that I hope the expression pathway I designed can convey.
Storyboard
在2050年,每个孩子很小的时候都会收到一份礼物。它是一种力量,让他们能在孤独的未来感受亲密并表达自己的内心世界。它是一种脱离肉体基础的表达方式。一旦与之匹配,每个孩子独一无二的生物信号将会成为开启并使用它的唯一密钥。它的名字是Engram, 心之痕迹,一切意识活动和感官体验的总和。

In 2050, every child will receive a gift when they are very young. It is a power that allows them to feel intimacy and express their inner world in a lonely future. It is an expression that separates the physical basis. Once matched, each child's unique biometric signal will become the unique key to unlock and use it. Its name is Engram, the heart's trace, the sum of all conscious activities and sensory experiences.

Engram伴她第一次感受懵懂情爱,帮她记录每一秒的美好,并让所有种种在自身留下独特印记;

Engram accompanies her to experience ignorant love for the first time, helps her record every meaningful moment, and lets all those leave a unique imprint on itself;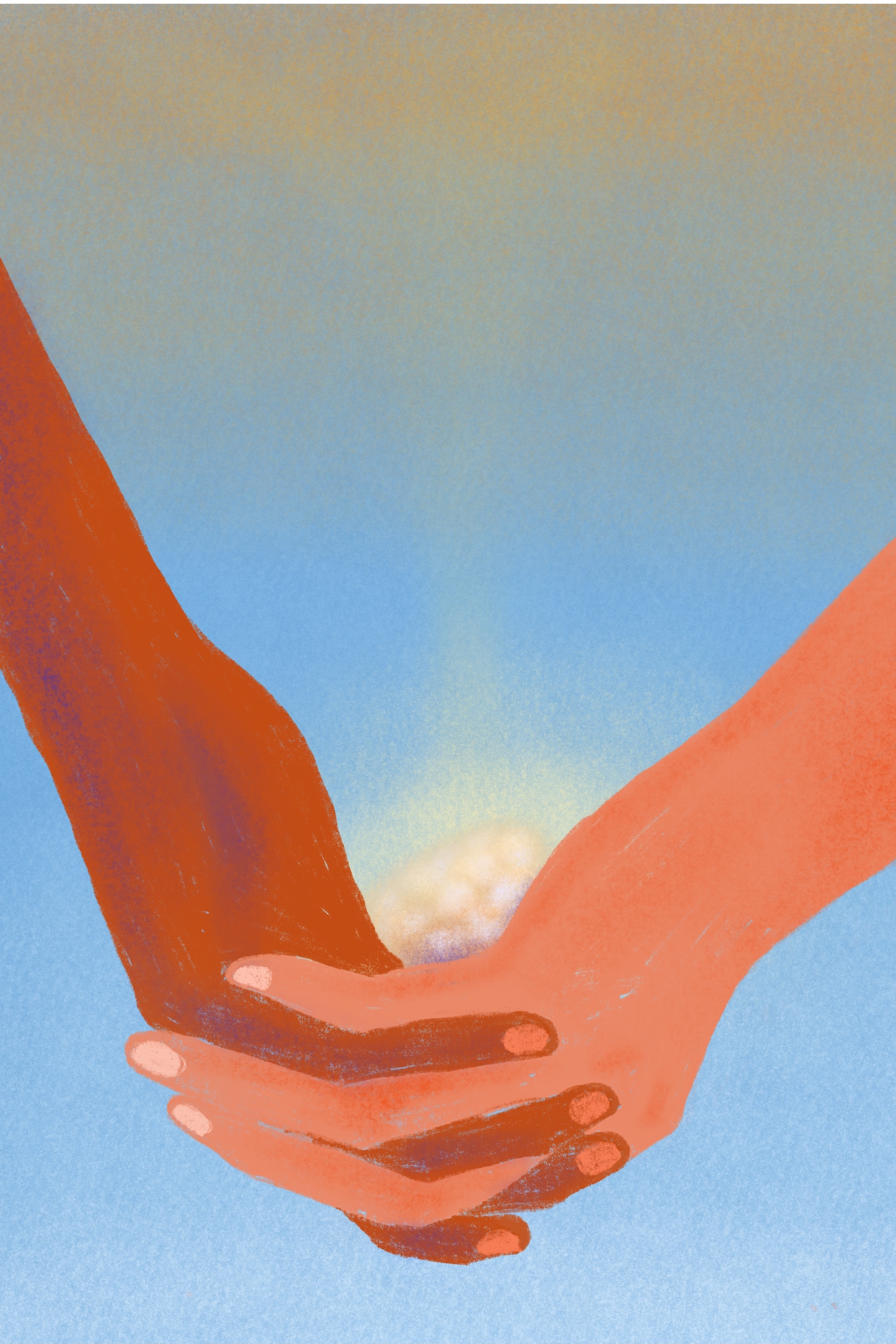 Engram陪她经历爱情的甜蜜;
Engram accompanies her to experience the sweetness of love;
陪她跨越初次的慌张不安,静待花朵的绽放
accompanies her through that panic of her first time wait for the flowers to bloom.
一起度过无数个下雨的夜晚
They went through countless rainy nights together.
她放心的享受着这种值的信赖的陪伴,与它分享自己所经历的感受。Engram发誓为她保守所有秘密
She enjoys this kind of trustworthy company with confidence and shares her experience with it. Engram vowed to keep all secrets for her.
Engram喜欢她那活泼的心思,天马行空的想象力和梦境
Engram likes her lively mind,
wild imagination and those fantastic dreams.
趁她熟睡时,Engram会默默帮她拾起所有遗漏的章节,因为不论晴天还是阴天,都是命运最好的安排。
While she is asleep, Engram will silently help her pick up all the missing chapters.
Whether it's sunny or cloudy, it is always the best arrangement for fate.
Engram帮助她表达言语无法传达的爱与内心世界
Engram helps her express her love and inner world that words cannot convey

只要她希望,Engram能够让任何人感受到她最切身的感受和想法
As long as she wants, Engram can make anyone aware of her most personal feelings and thoughts.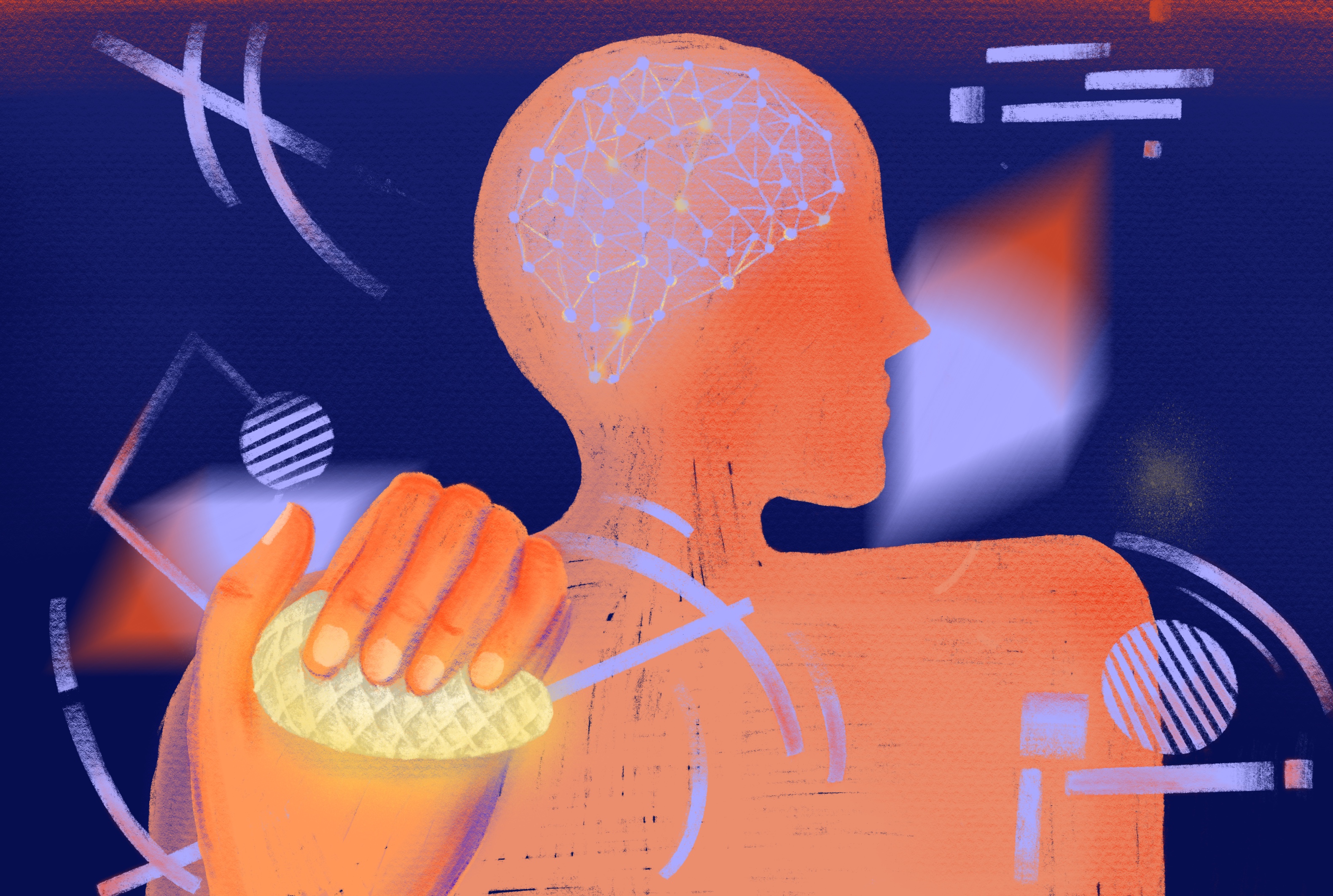 当然,她也可以重现那些美好给自己,比如她想无数次倾听爱慕的男孩对她的青涩告白
Of course, she can also reproduce those beautiful things for herself.
For example, she wants to listen countless times to her favourite young boy's confession.
Engram当然不会因为丢失而让她伤心。只要一部分得以安全保存,她可以在家里随时打印出她的伙伴。
Engram certainly wouldn't make her sad because of loss. As long as any part of Engram is kept safe,
she can print out her partner at any time at home.
一天,她和他终于走进婚姻的殿堂
One day, she and he finally entered the palace of marriage.
他们站在神父面前,用Engram互诉爱意,这是胜过千言万语,最真实的表达
They stood in front of the priest and used Engram to tell how much they love each other.
This is the most authentic expression that is more telling than thousands of words.
Engram 长达150年的陪伴,也终有一天会走到尽头,并不是因为它不愿再呆在她身边。
此时,Engram正在完成自己最后的使命,让人们铭记曾经的美好瞬间。
Engram's 150-year company will come to an end one day, not because it doesn't want to stay with her anymore.
Engram is fulfilling its final mission to let people feel and remember those beautiful moments belonging to her.
爱她的人不愿意让老人离去,都期待在Engram的帮助下,在将来的某一天如果技术能够再次让她睁开双眼,
她还是那个睁大眼睛好奇接过松果的女孩
People who love her are unwilling to let the old lady leave. They are all wishing that with Engram's help,
if technology can let her open her eyes again in the future, She will still be that little girl.
The video below will roughly show how Engram works
in a daily scene.
Presentation slides

View the full presentation in detail︎︎︎

Engram这个单词的意思是心灵的痕迹。这里我将其解读为人们平时不会去注意的一切微小的感官体验和想法。
The word Engram means traces of the soul. Here I interpret it as all the tiny sensory experiences and thoughts people usually don't pay attention to.
我的设计是一个体外的设备,用于储存和分享可以用神经信号传达的信息。
My design is an external device used to store and share information conveyed by neural signals.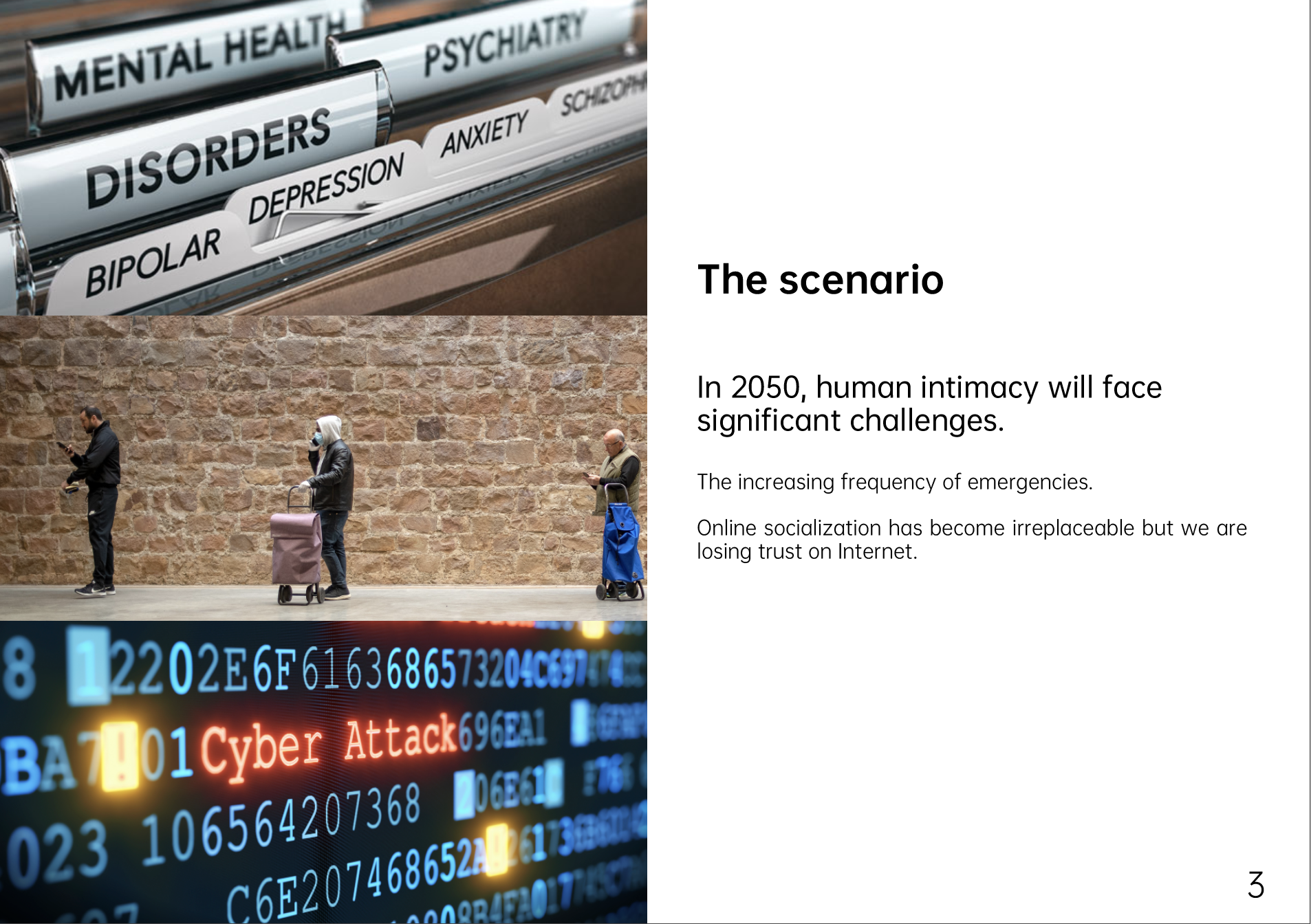 2050年是一个缺乏亲密关系的时代。

越来越频繁的突发事件,比如瘟疫大流行、地域冲突、移民计划、自然灾害,还有越来越常见的心理疾病,会造成人们之间越来越多的时间、空间、心理上的隔离和限制。

同时,我们越来越依赖互联网,越来越高比例的亲密关系是通过互联网这个平台来维系的。

假如今天互联网不复存在,我将会因为失联而失去大部分的亲密关系。但由于赛博攻击、隐私泄漏事件和大型互联网公司操控舆论事件更频繁的发生,我们正在逐渐失去对互联网的信任。

对亲密关系赖以生存的平台失去信任,这对亲密关系的维持来讲是一个很大的挑战。

我们把绝大部分的亲密关系都放在了一个risking的平台上。

2050 is an era which lacks intimacy.

The increasing frequency of emergencies, such as pandemics, regional conflicts, immigration plans, natural disasters,

and more common mental illnesses, will cause more restrictions and isolation timely, distantly, and psychologically.

Simultaneously, we are becoming more dependent on the Internet. A higher proportion of intimacy is maintained through the Internet.

If the Internet ceased to exist today, I would lose most of my intimacy because of the loss of connection.

However, due to the more frequent cyber-attacks, privacy leaks, and public opinion manipulation by large Internet companies,

we are gradually losing trust in the Internet,in the platform on which intimacy depends for survival is a big challenge to maintaining intimacy.


We are planting most of our intimacy on a risking platform.
我总结出了亲密关系的三个因素。首先亲密关系不是一个人的事情。它是一种互动。
第二,它是个人信息的交换。就像如何区别一个普通朋友和一个亲密朋友,这取决于我们有多少隐私愿意和他或她交换。
最后,所有的互动和信息交换都必须建立在互相信任的基础之上。
I summarized the three factors of intimacy.
Firstly, it is not a matter of one person. It is an interaction.
Secondly, it is an exchange of personal information. Then, all interaction and information exchange must be based on mutual trust.
在21世纪早期我们已经能够感觉到亲密关系的流失。
人类正在尝试用人工智能去帮助填补亲密关系的缺失。左边图片是日本敬老院使用的有语言交流功能的机器人paro。
右图是德国研发的拥抱机器人。它唯一的功能是提供温暖柔软的拥抱,它的部分用户使用后甚至形容道:这个机器人可以理解他们的内心。
In the early 21st century, Humans started to use artificial intelligence to help fill the lack of intimacy.
The picture on the top is the robot "Paro" with language communication function used in Japan's infirmaries.
The image on the bottom is a huge robot developed in Germany.
Its only function is to imitate a warm and soft hug, and some of its users even describe it like "This robot can understand them".
我举的这两个例子可以证明物品的确有帮助满足人类亲密关系需求的能力。

但是我觉得这个解决方案并不是最完美的。因为机器只是在模仿亲密关系的形式。它们有单一感官上的满足我们需求的能力,比如语言交流和拥抱。

但是它们不能够理解和分享内心世界,因为它们并没有!这并不是因为他们不够聪明,而是因为人类的真实内心世界很难模拟。比如我们告诉siri 我很生气,siri却只能无奈的猜测什么是愤怒。

机器人与人类交流中的缺失,也就是内心世界的表达限制,也是人与人交流时面临的主要困难之一。

我们并不能够从他人的表达中得到全部我们所需要的信息,因为我们现在有的表达方式有很大的局限性。

比如我在讲述presentation的时候,我总是试图把自己的思路用逻辑的方式讲出来,但是通常情况下我的语言描述会丢失逻辑链中的几环,

我的观众就会很疑惑,更何况是在表达柔软、细腻的亲密的时候。智人是一种有逻辑思考能力的动物。

我们的所有活动都需要大量的脑部运算,我把得到最终行动结果之前所有的步骤成为engram。

但是智人行为有的时候表现出非逻辑性,他的行为并不能反映出这个人类个体所有的逻辑性内心活动过程。

但在交互的过程中,交互对象总是以逻辑的方式去理解、分析他的行为和语言,这就会造成交互完整性的缺失。

即使人的思考的方式是逻辑性的,但是只要他表现出非逻辑性的、跳跃性的行为,他就变成了不可被理解的人类个体。

这会带来误解、社交障碍,对亲密关系是个很大的挑战。

在距离限制、时间限制、表达能力缺失、心理障碍更常见的2050年,人类的会更频繁的面临上述的情况,不论是面对面交流还是在网络上。

如果我们能够追踪每一条你想表达的东西,并能在瞬间完成分享的过程,这将会是一种有效率、有争议性的新的表达方式。

我现在做的就是构想一种有媒介参与的表达方式。它帮助传达最真实、最亲密的感受和内心世界。

换句话说,是一种脱离语言和肢体的交流方式,这很像是帮助人类脱离以肉体为一切的基础的三维空间向更高维度迈进的临时工具,直到我们能够用意识进行交流。

The two examples I gave can prove that objects can somehow help meet human intimacy needs. But I think this solution is not the best.

Because the machine is just imitating the form of intimacy.


They can satisfy us with a few sensory feelings, such as language communication and hugs.


But they cannot understand and share their inner world, because they don't have one!

This is not because they are not smart enough, but because human beings' real inner world is difficult to simulate.

For example, we tell Siri that I am angry, but Siri can only guess what anger is.

The shortage of communication between robots and humans, that is, the limitation of expression of the inner world,


is also one of the main difficulties people face when communicating with others.

We can't receive all the information we need from others' expressions because the ways of expression we have now are with great limitations.

For example, when I am narrating my presentation, I always try to express my ideas logically,

but my language description will usually lose several links in the middle. My audiences will be perplexed, not to mention when it comes to express soft, delicate intimacy.
这一次我想尝试一个新的思路,不再用人工智能模拟的方式帮助人类的亲密关系,而是设计一个沟通的桥梁,
跨过表达器官的限制,让人们的内心世界能够直接沟通的媒介或者载体,它就是engram。
Besides using artificial intelligence simulation to help human intimacy, I want to try a new solution,
designing a communication bridge, stepping over the limits of expression organs, enabling people's inner world to communicate directly.
It is Engram.
储存和分享是engram的主要功能。储存细微感受,包括感觉器官的神经数据和荷尔蒙分泌的指令,
还有有意识的脑活动,包括思想、梦境、想象等。分享包括分享给他人或分享给自己,也就是重现的过程。
Recording and sharing are the main functions of Engram
.
Store subtle sensations, including nerve data from sensory organs and hormonal instructions, and conscious brain activities,
including thoughts, dreams, and imagination. Sharing includes sharing to others or sharing to yourself called reproduction.
我们先看下使用engram的体验。
Then it's a video about a user's daily experience.
这段视频看起来就像是engram使我们的意识完成了短暂的同步。

可惜视频只能用括号里的文字描述细微的内心活动却无法展示感官体验,比如闻到咖啡香,醒来时感受到的呼吸。

下面我要简单讲一下engram的说明书。

This video looks like Engram helped them experience a short synchronization of their consciousness.


The disadvantage is that I can only show his inner activities with words in the brackets but cannot show sensory experiences,


such as the smell of coffee and the lover's breathing he feels when he wakes up.

Then I will briefly talk about Engram's manual.
首先是激活步骤,用户最初接触engram大多是在小时候。

首先她需要和空白的engram进行匹配,一旦这个步骤完成后,该用户的神经信号将会成为唯一可以激活并使用的钥匙。

The first step is activation.

Mostly, Users' first connection to Engram is at their early age.


She needs to match a blank Engram. After that, the user's neural signal will become the only key to activate and use.
丢失和找回。一旦丢失engram并不意味着用户丢失了先前储存的所有的数据。
作为有机物品,engram会自动进行细胞复制,engram的每个细胞里储存了相同的数据。
也就是说只要保证engram的一部分绝对安全,用户可以随时在家里面克隆出新的engram。
Lost and retrieved. Once the Engram is lost, it does not mean that the user has lost all the previously stored data.
As an organic item, Engram will automatically replicate cells, and each cell of the Engram stores the same data.
In other words, as long as part of Engram is absolutely safe, the user can clone a new engram at home at any time
.
记录。手掌是人类神经网络最密集的肢体部分。
当需要记录最细节的信息时,用户只需要把engram握在手里就能够记录下尽可能多的细节。
The palm is one of our body parts where the neural network is most dense. When a user wants to record the most detailed information, he only needs to hold the Engram in his hand.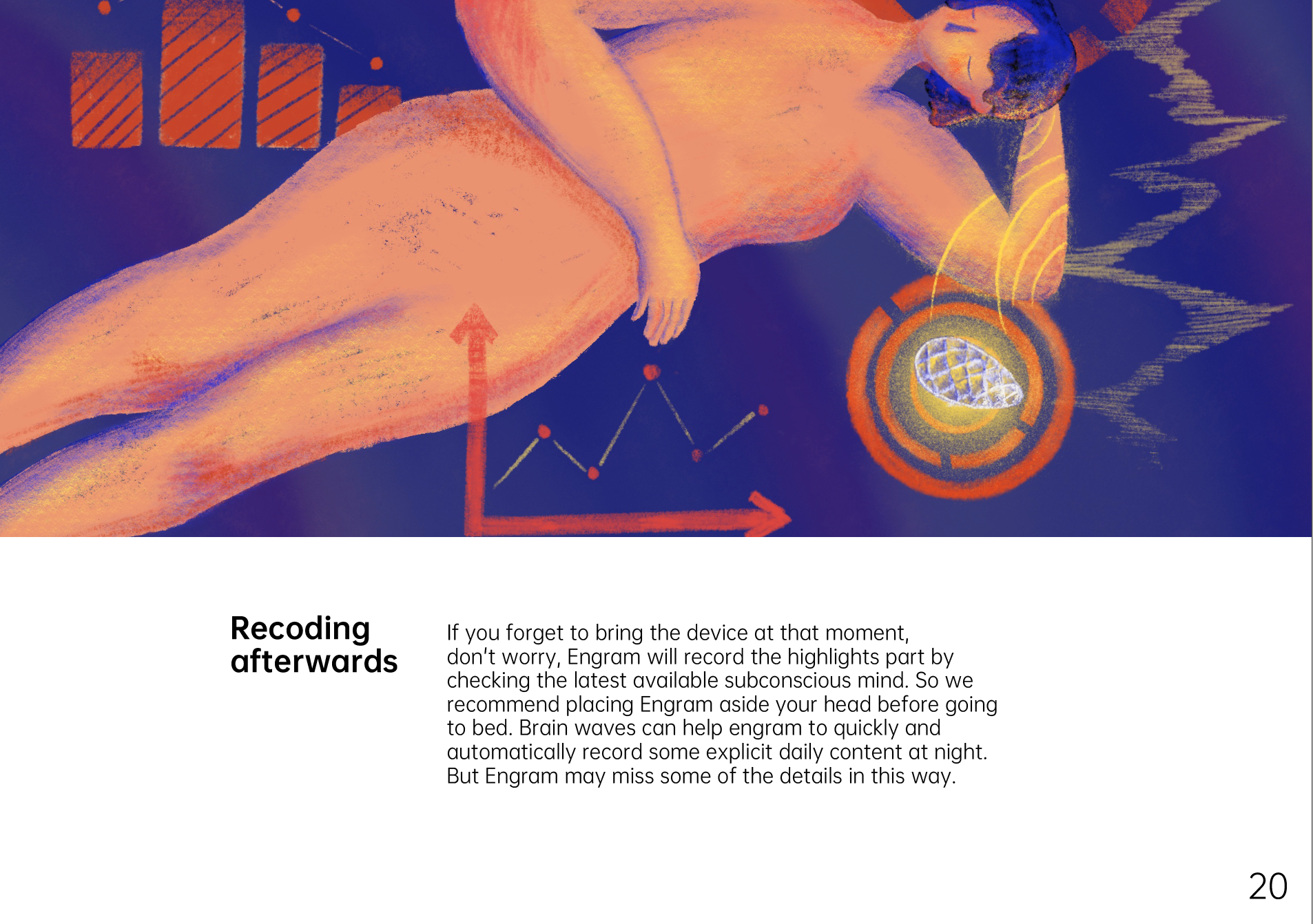 一直随身携带engram是一件不方便的事情。engram会在用户休息时自动收集其神经信号。

通过扫描检索潜意识中的高亮部分并保存,就像2020年人工智能可以为智能手机用户自动生成年度照片影集一样。

不过通过这种方式收集储存的信息相较于握在手里即可储存的方式会有部分细节的缺失。

It is inconvenient to carry Engram with you all the time. Engram will automatically collect neural signals when the user is resting.


It scans and retrieves our subconscious mind's highlighted parts and record them

,

just as artificial intelligence can automatically generate an annual photo album for smartphone users in 2021.

However, the information collected and stored in this way has some details missing compared to those stored while holding Engram in hand.
分享过程在前面的视频里已经出现过,把engram握在掌心,授权,分享给亲密的人。
The sharing process has already appeared in the previous video. Hold Engram in the palm, authorize, and share with others.

很多相关的技术从2020年科学家做的实验中已经能够预测到。

未来是一个生物算法的世界。科学家已经成功使用仅一个细胞的dna去储存200mb的音频文件,并提取出来。

这说明未来我们能做到去追踪并以代码的形式储存每一个细微神经信息,然后再重新读取。上述几点分别对应着engram的几个主要功能。

Many related technologies can be predicted from existed scientists' experiments until 2021

.

The future is a world of biological algorithms. Scientists have successfully used only one cell's DNA to store 200MB audio files and extract them.

This shows that we can track and store every subtle neural information in the form of code in the future and then read it.


The above information corresponds to several primary functions of Engram

.
Elon musk在一个实验中追踪了猪在跑步机上活动时的脑部活动。猪的肢体关节会对应其脑部的一片特定区域,当猪重复相同的动作时,
科学家能够准确预测出其脑部的活动区域,反过来讲,我们只需要关注猪脑部的活动就能推测出他正在活动那一个关节。

In an experiment, Elon Musk tracked pigs' brain activity when they were moving on a treadmill. Each limb joint of a pig corresponds to its brain's specific area. When the pig repeats the same action, the scientist can accurately predict its brain's active site. Conversely, we only need to pay attention to the pig's brain's activity to figure out which joint it is commanding to move.

神经信号之于每个人具有独特性。相比于我们现有的指纹识别,面部识别,虹膜识别,脑电波识别会有最高的准确度。

因为每个人的先天基因和后天经历都会影响其神经信号的特性。

这个原理能够确保不联网的Engram具有极高的私密性和可信度。

我认为这种人对物的信任,不论对engram内储存的人与人的亲密关系相关信息还是构建人与物的亲密关系都是必不可少的。

Neural signals are unique to each person. Compared to our existing fingerprint recognition, facial recognition, iris recognition, brain wave recognition will have the highest accuracy.

Because everyone's innate genes and acquired experience will affect their neural signals' characteristics.

This principle can ensure that engrams that are not connected to the Internet have extremely high privacy and credibility.


I think this kind of trust between people and things is essential for both the information about the intimacy
between people stored in the Engram or the construction of the human-object intimacy.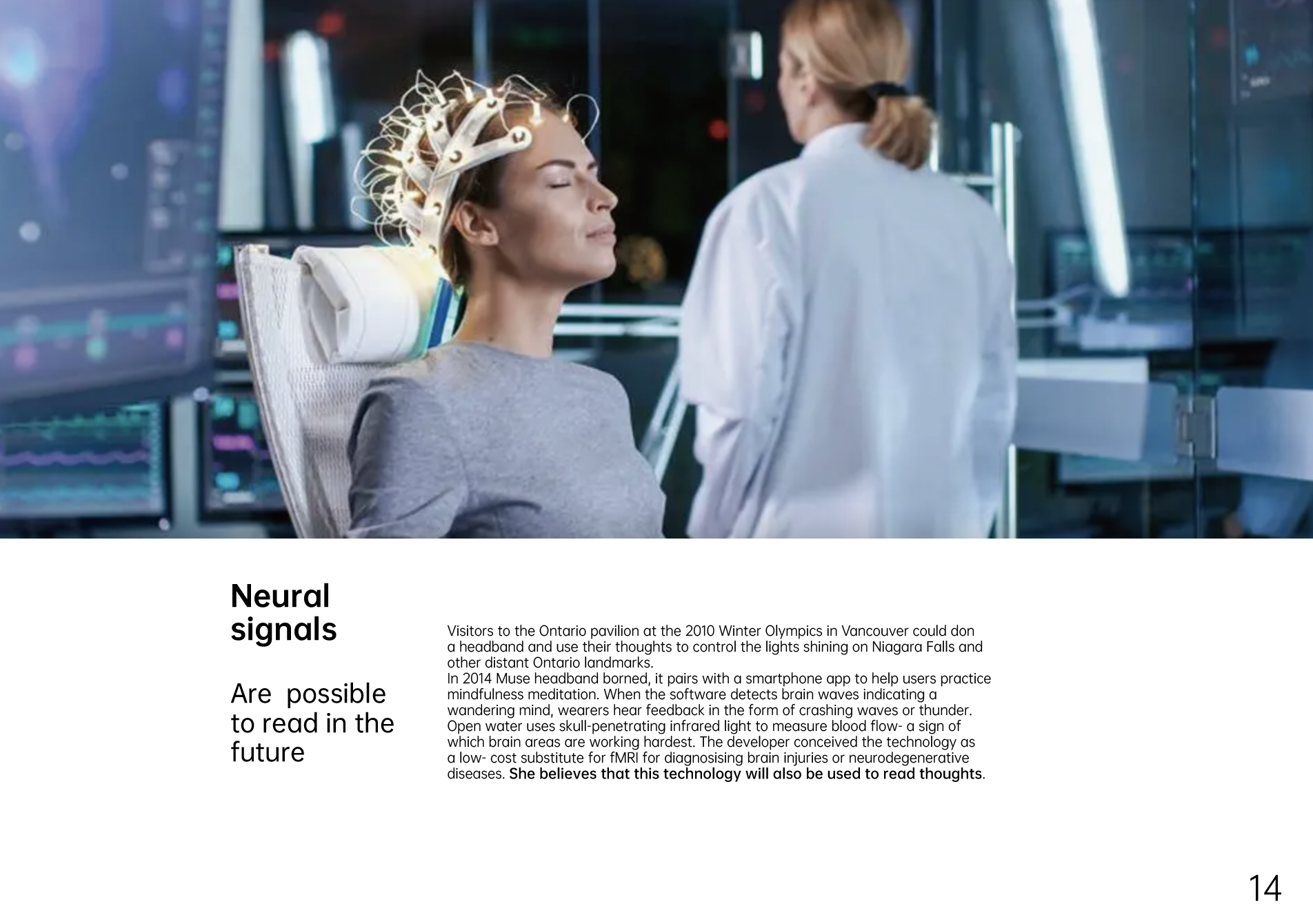 2010年的时候,温哥华冬奥会的观众能够通过头戴设备远程遥控尼亚加拉瀑布信号灯。2014年诞生的muse headband能够通过识别人脑的部分电信号引导用户进行冥想。技术开发者声称很确定在未来的某个时候,这项技术能够帮助人们阅读心灵,只是时间早晚的问题。神经信号可以被追踪、识别和读取。神经信号可以传达的内容越多,engram能记录的内容就越丰富。
In 2010, spectators at the Vancouver Winter Olympics were able to remotely control the Niagara Falls signal lights through their headband. The Muse headband, which was born in 2014, can guide users to meditate by identifying parts of the human brain's electrical signals. Technology developers claim to be quite sure that this technology can help people read the mind in the future, it is only a matter of time.
Neural signals can be tracked, identified and read. The more content that neural signals can convey, the richer the content that Engram can record.
没有人可以强迫用户打开这个个人隐私的黑匣子,一旦与之匹配的用户去世,engram将会进入生物休眠状态。
这个设计是因为人们愿意相信在更远的未来,医学可以把死去的人的复制体重新带回到我们身边。
那时engram将会成为赋予躯体他曾经拥有的自我和内心世界的关键,当然还有对曾经亲密关系的体验。
某种意义上来讲,engram是自我和亲密关系的暂时容器。人们把engram送到专业生物冷藏公司或保存在人造琥珀里面。
No one can force users to open this black box of personal privacy. Once the matched user dies, Engram will enter a dormant biological state.
This design is because people are willing to believe that medical technology can bring back copies of dead people back to us in the far future.
At that time, Engram will be the key to giving the body the self-ego and the intimacy he has ever had.
In a sense,
Engram is a temporary container for self-ego and intimacy
.
People send Engram to professional institutions for cryopreservation or store it in artificial amber.
第二个定义,engram是拥有人与物亲密关系的终生陪伴。
The second definition, Engram, is a lifelong companion who has a human-object intimacy with its user.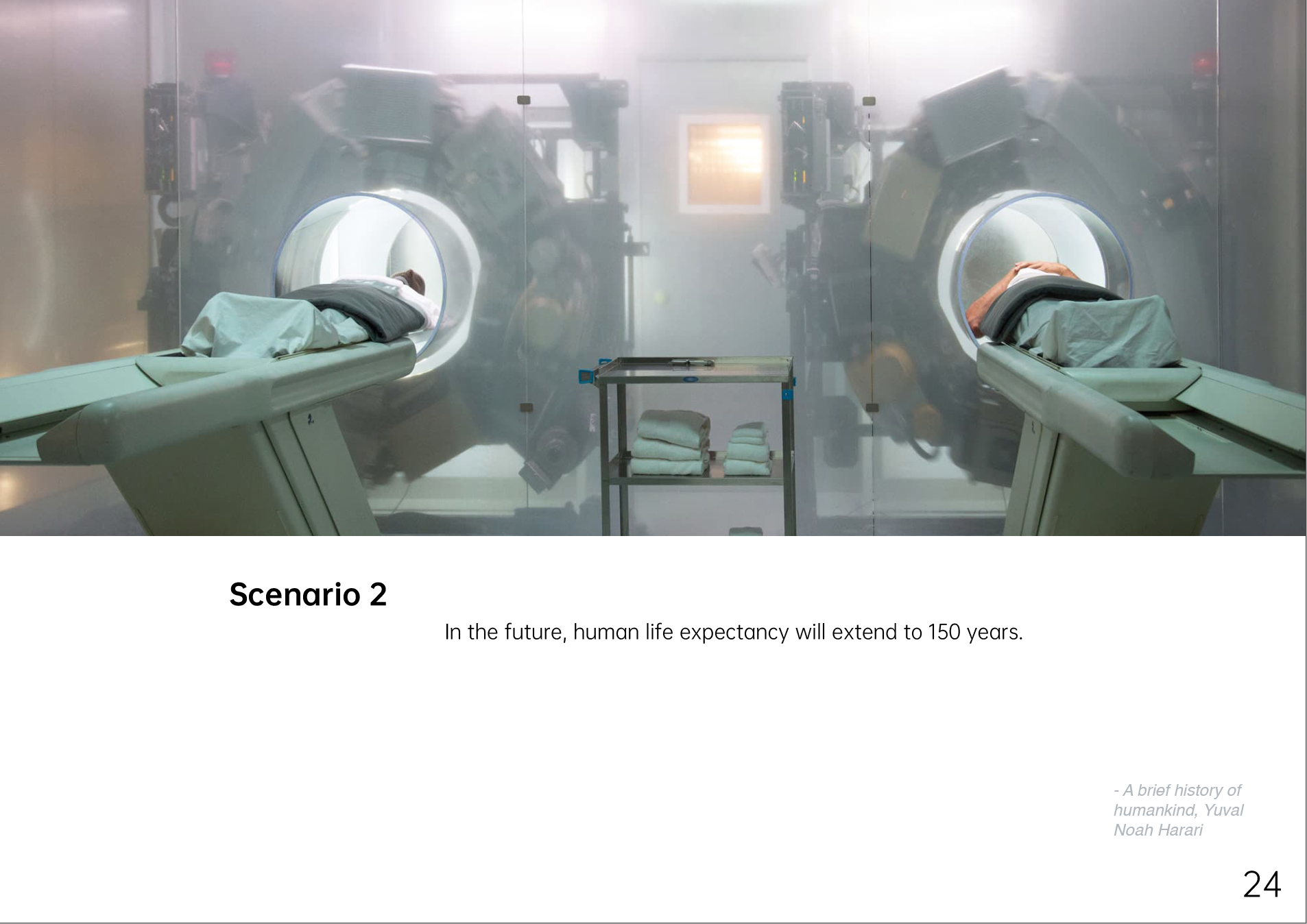 科学家预言人类寿命极限在2050年达到150岁。
Scientists predict that the limit of human life span will reach 150 years in 2050.

我们来看一下2020年的环境下,常见生活物品的使用寿命,从最短的20分钟到几十年不等。
在2050年会出现陪伴时间长过最亲密的关系-婚姻的物品出现吗?它会给我们带来什么?这是个对我来讲非常有趣的问题。
Let's take a look at the lifespan of common household items in the 2021 environment, ranging from the shortest 20 minutes to several decades.
In 2050,
will there be an object that lasts for longer than the most intimate relationship marriage appear? What will it bring to us
?
This is a fascinating question for me.
5d生物智能打印和3d打印的不同在于打印的对象拥有crucial functional regeneration dimension.科学家现在能够打印干细胞并将其培养成人类骨组织,

打印"功能完全"的人类肺部,人类关节,心脏支架,脑组织,皮肤组织。

虽然我们现在的研究方向大多都是医疗行业的人类组织再生,但我相信赋予物体有机躯体不难。

The difference between 5d bio-intelligent printing and 3d printing is that the printed objects have a critical functional regeneration dimension.


Scientists can now print stem cells, grow them into human bone tissue, and print "fully functional" human lungs, human joints, heart stent, brain tissue, and skin tissue.

Although most of our current research directions are human tissue regeneration in the medical industry, I believe it is not tricky to gift organic bodies to objects.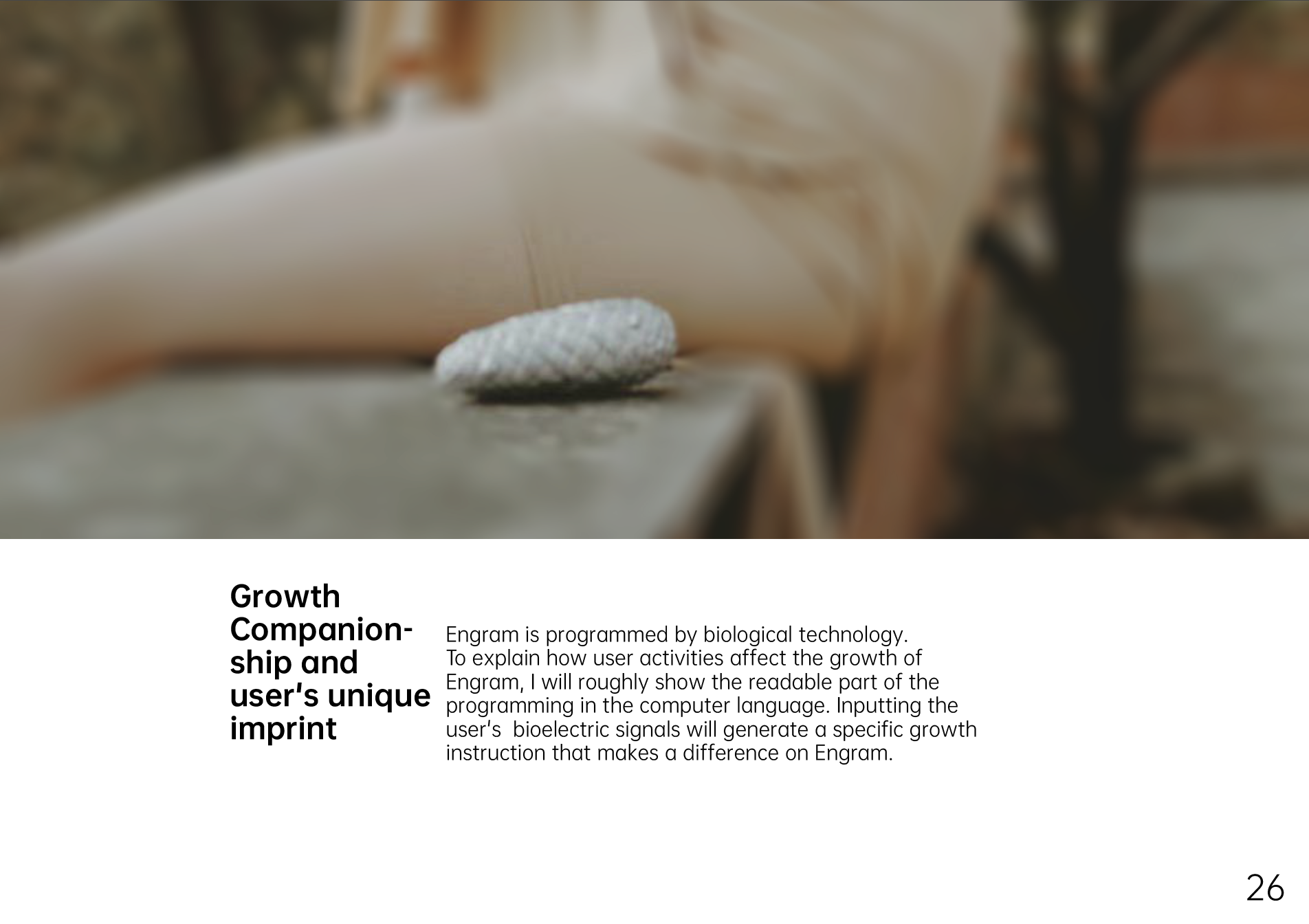 Engram就是5d生物智能打印制作的。作为一个长期陪伴的有机的"体外器官",在长达150年的时间里,用户输入的所有神经信号都会对engram的生长产生影响,

并使Engram的生长拥有用户独特的印记。就像开了20年的甲壳虫汽车里的配饰或使用了5年不肯丢掉的心爱的围巾上的气味。

Engram is made by 5d bio-intelligent printing. As an organic device that supposed to company its user for 150 years,


all the user's neural signals input will impact the growth of Engram and let Engram have a unique imprint of the user

.

It's like the accessories in a Beetle that has been driving for 20 years or the smell on a beloved scarf used for 5 years.
这里我用21世纪初的计算机语言模拟了一下engram受到不同神经信号将会作出的相对生长改变。

用户的感官和细微意识互动会以神经信号的形式传递给engram,一旦engram接受并识别了这个信号,

它就会把信号输入到生物算法中并以数据的形式保存,同时从庞大的"生长数据库"里得到相对应的growth instruction。

而engram使用的生物算法将会使生长拥有无限种不可预测不符合人类逻辑的可能性。它可能更符合松树的逻辑?这是个玩笑。

Here, I use computer language in the early 21st century to simulate the relative growth changes that Engram will make when subjected to different neural signals.

The user's sensory and subtle consciousness interactions will be transmitted to Engram in neural signals.

Once Engram accepts and recognizes this signal, it will put the signal into the biological algorithm, save it in the form of data,


and get the corresponding growth instruction from the vast "growth database".


The biological algorithm used by Engram will enable the device to have unlimited possibilities that are unpredictable and uninterpretable to human logic.
另一种自决性。engram只会在接收到匹配用户的神经信号时才会发生改变。世界上没有两个相同的人。经过长时间的陪伴使用,也不会有两个完全一样的emgram。
Another kind of autonomy. Engram will only change when it receives a neural signal that matches the user.
There are no two people who are identical in the world.
After a long companionship, there won't be two identical Engrams
.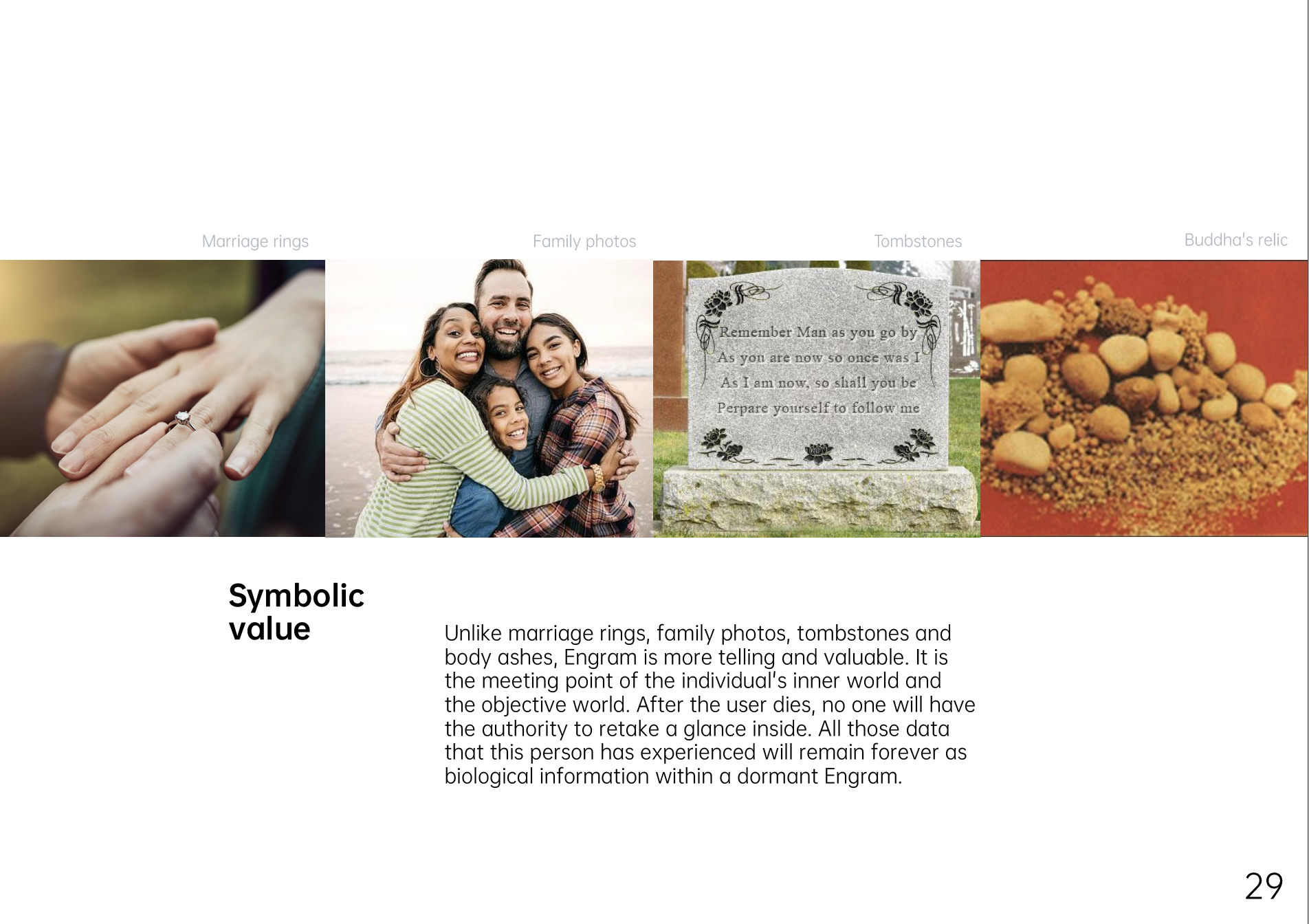 象征意义。不同于常见的具有象征意义的物品,婚戒,全家福,墓碑和死者的骨灰,engram不仅仅象征了一个人和另一群人的亲密关系。

作为一个和用户终生相伴的亲密物品,它代表了一个人的内心世界和客观世界的亲密关系。

Symbolic meaning. Unlike common symbolic objects, wedding rings, family portraits, tombstones and ashes of the dead,

Engram not only symbolizes the intimacy between one person and another group of people.


As an intimate object that accompanies the user for life, it represents the intimacy between a person's inner world and the objective world.
我选择了类似松果体的外观。松果体和人类的情感、性、社交欲望有紧密关系的腺体。下面是一段舞蹈视频,感谢我的朋友Yang Xiaoxiao为这个表演所有的付出。

视频展示的是engram陪伴用户从童年,青春期,成年,结婚到老年的故事,我希望观众们可以尝试去想象engram以及engram带给人类的

人与物的亲密关系所扮演的角色的演化,在一个孤独、缺乏亲密关系的未来。

I gave it a pinecone looking.

The pineal gland is closely related to human emotions, sex, and social desires.


The following is a dance video which shows the story of Engram's companionship from user's childhood, adolescence, adulthood, marriage to old age.


I hope the audience can try to capture the evolution of Engram's role and the human-object intimacy that


Engram brings to humans alongside the dancer's ageing, in a future of loneliness and lack of intimacy.
A privacy policy from 2050

我特别重新准备了一份2021年的engram privacy policy。而在我来的年代所使用的2050年的版本在右侧。
I specially prepared a new engram privacy policy for 2021. The 2050 version used in the year I came is on the right.

Producer List